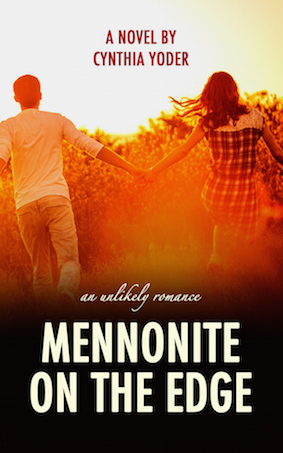 Mennonite on the Edge: An unlikely romance

Get ready for a treat! Mennonite on the Edge: An Unlikely Romance is a new love story and a woman's search for identity by Mennonite-born author Cynthia Yoder.
Though a country-girl at heart, MaryJo hopes to leave behind her identity as a Mennonite in marrying Adam and living a life of adventure in Manhattan. But news from home kicks up memories she'd tried to forget. While she begins to question her choices, Adam lands a high-profile job, making a move seem impossible. MaryJo must make peace with her past and her present so that she can live the life of her dreams with Adam. But can she reconcile her craving for a life of country serenity in the City that Never Sleeps?
Set in both New York City and the heart of Pennsylvania Dutch Country, Mennonite on the Edge reveals a young woman's struggles to define life on her own terms. The more she attempts to redefine herself apart from her past, the more the past seems to pull her in.
Mennonite on the Edge will appeal to readers of contemporary fiction as well as historical and Christian fiction. It explores themes of love, belonging, culture and community. The book includes book club questions created by the author.
WHAT AUTHORS ARE SAYING
Mennonite on the Edge treats readers to a love story set in two worlds: among the delis and blues bars of New York City, and amid the winding roads and idyllic cornfields of Pennsylvania Dutch country.  The struggles and triumphs of MaryJo and Adam are sure to resonate with anyone who has ever tried to balance the claims of love and work, self and other – not to mention anyone who's ever tasted a really great shoo-fly pie.
–Deborah Yaffe, author of Among the Janeites: A Journey Through the World of Jane Austen Fandom, DeborahYaffe.com
The search for self and the desire for connection create conflict for many a young person growing up Mennonite. Unlike Amish romances, where easy resolution is possible, this novel takes us into the messy inner life where questions are never completely answered but grow deeper and more complex. You will find yourself rooting for MaryJo and Adam, and you will not be disappointed in their discoveries.
—Shirley Showalter, author of Blush: A Mennonite Girl Meets a Glittering World, ShirleyShowalter.com
If you're a Beverly Lewis fan, don't miss Mennonite on the Edge, where the protagonist, MaryJo, struggles with leaving the security of a mapped-out life and belief system.  It is an intimate look at the internal conflicts of a former Mennonite as she explores love and life in NYC while trying to discover who she is and where she belongs. Weighing the familiarity and lifestyle of the country to the excitement of the city proves a difficult task, as she navigates the NYC landscape with her new husband.  Those experiencing a religious transition will appreciate this well-written journey of obsession and guilt that plagues MaryJo as she reviews her life and family in the context of her Mennonite upbringing while she learns that friends from other backgrounds have had their own challenges.
— Diane Wing, author of The True Nature of Energy: Transforming Anxiety into Tranquility, DianeWing.com
COME JOIN THE DISCUSSION ON FACEBOOK!  Facebook.com/CynthiaYoderAuthor